Good, Better, Best…
We're starting a new series to help you better understand some of the available workwear options on the market. In our first edition, we're talking shoes!
The benefits of safety footwear are undeniable; however, selecting the correct boot might be challenging as each pair is different. With different styles, price ranges, quality, features and other factors to consider, it is crucial to always take into account the various requirements and specific needs of your profession. To begin with, Ladies Specific Footwear.
Not until recently, women working in safety-critical industries such as construction and rail have had to resort to wearing smaller-sized men's footwear or 'unisex' footwear.
However, this can be extremely uncomfortable as a woman's foot shape and structure is anatomically different from a man's.
In addition, wearing ill-fitted footwear can result in blisters, callouses and many other health issues; therefore, it is crucial that you provide your female workers with ladies specific footwear.
Good – Rockfall Onyx Safety Boot
Lightweight & Anti-Static
Protective Toecap & Midsole
Water Repellent Upper
Oil Resistant
Heat Resistant Outsole to 300°C
EN ISO 20345:2011 S3 HRO WR SRC
Better – V12 Torque IGS Safety Hiker
Intelligent Grip System (IGS) heat resistant sole
Electrostatic Dissipative (ESD)
Suitable for Vegans
Lightweight composite safety toecap
Flexible anti-penetration composite midsole
EN ISO 20345:2011 S1P HI HRO ESD SRC
Best – V12 Turbo IGS Safety Trainer
Intelligent Grip System (IGS) heat resistant sole
Electrostatic Dissipative (ESD)
Suitable for Vegans
Lightweight composite safety toecap
Flexible anti-penetration composite midsole
EN ISO 20345:2011 S3 HI HRO ESD SRC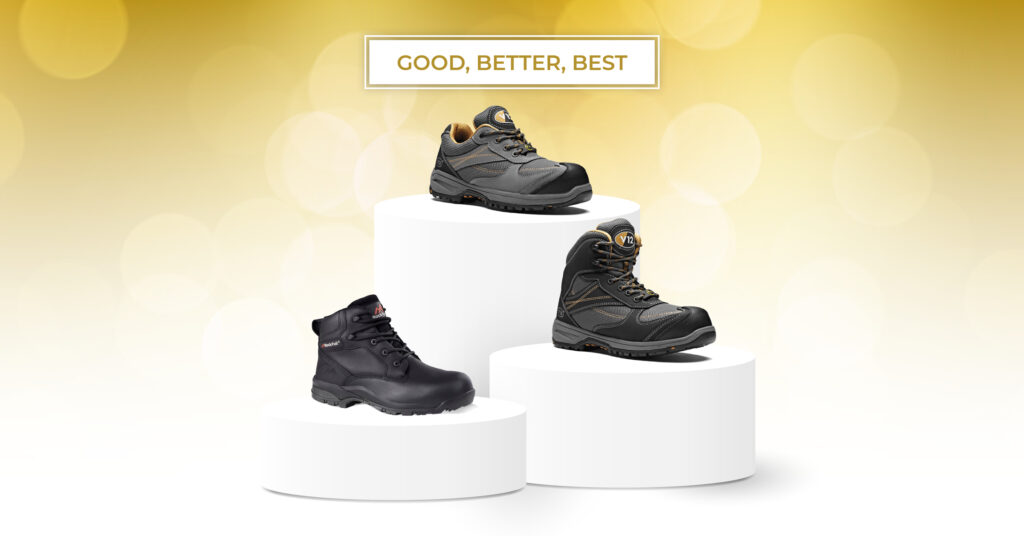 FIND OUT HOW CAN WE SUPPORT YOU