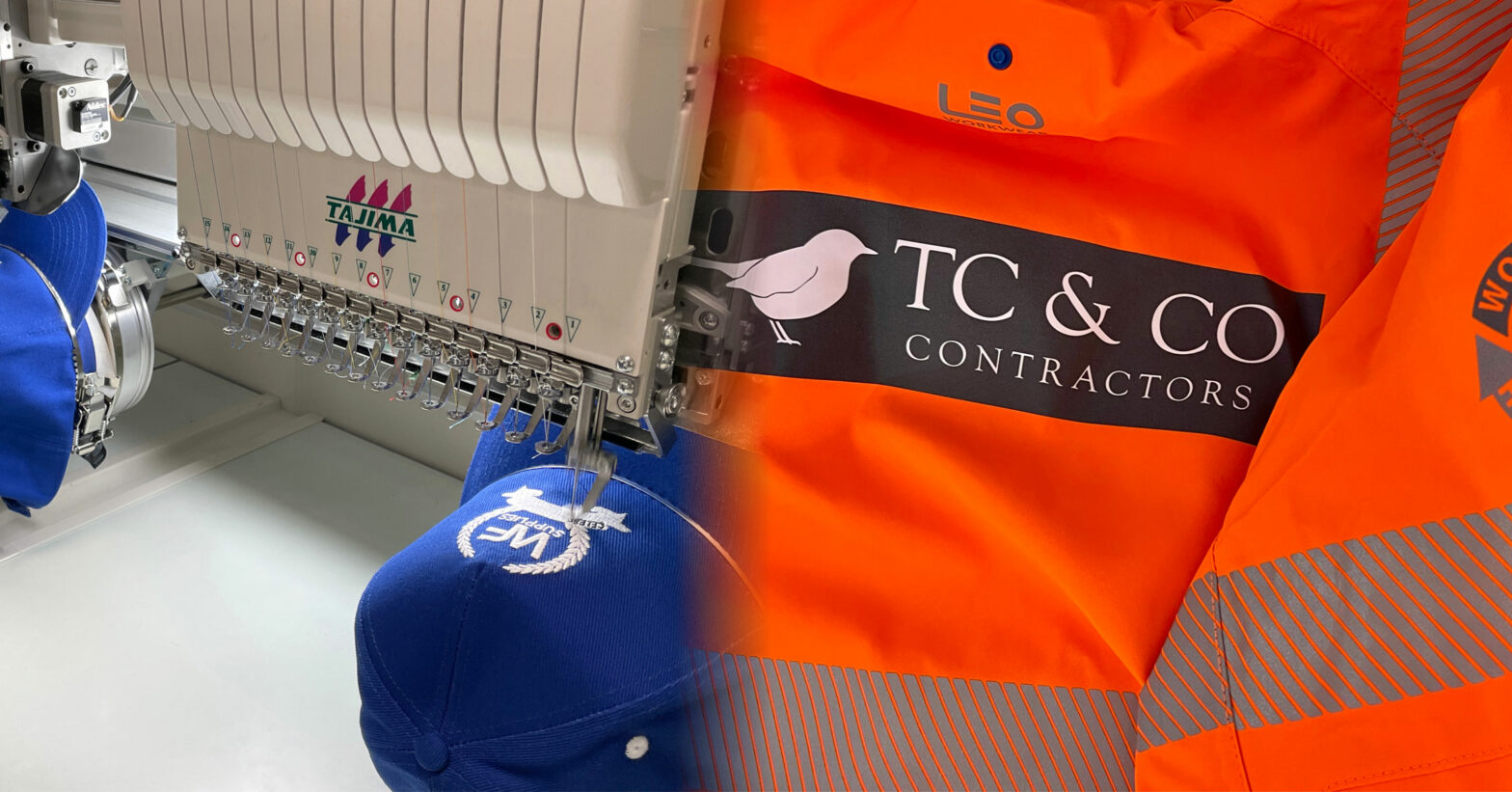 There is no doubt about it; investing in branded workwear can positively impact your business's brand identity and recognition while bringing a sense of pride and belonging to employees in the workplace, as well as a multitude of other business benefits. Therefore, implementing a custom workwear strategy is an excellent move.
Determining which branding option is suitable for your workwear is an important decision. Therefore we've put together this article to help guide you. As always, our team are on hand to offer specialised advice.
Embroidered Workwear vs Printed Workwear, which is best?
When you are looking to introduce branded uniforms or workwear into the workplace, deciding whether to choose embroidered or printed clothing can be complex. Often the cost is at the top of the list when making decisions like these, but there are many other contributing factors that you should consider before making your final choice.
Embroidered Workwear
Pros of Embroidery:
Embroidery is longer lasting and more durable, making it a long-term, cost-effective choice as embroidered logos do not fade and should last the lifetime of the clothing.
Embroidery works well for small logos without compromising quality.
Embroidery is suitable for use on thicker garments.
Cons of Embroidery:
Generally, embroidery costs more upfront than digital printing per head.
Less suitable for large, complex designs.
Examples of garments perfect for embroidery:
Polo Shirts
Sweatshirts
Hats (beanies or caps)
Shirts
T-Shirts
Hoodies
Fleeces
Printed Workwear
Pros of Digital Printing:
Printing is faster, saving you time if you need branded workwear quickly.*
Printing solutions work well on all types of fabrics, even thin materials.
Printing is suitable for complex, large, and colourful designs.
Printing is generally more cost-effective per head than embroidered options.
Cons of Digital Printing:
Generally, digital printing is less durable and, over time, doesn't last as long as an embroidery option.
Examples of garments perfect for print branding:
Softshell Jackets
Polo Shirts
T-Shirts
Hoodies
Sweatshirts
Hi-Vis Coats and Jackets
Safety Helmets
Protective Workwear (PPE)
*At Stronghold Global, we can print your branded workwear on the same day, depending on the complexity.
Other points to consider when purchasing branded workwear:
Design longevity – Typically, embroidery lasts longer than most printed workwear. If you are in an industry where uniforms continually get dirty and require frequent washing at high temperatures for sanitary reasons, such as in healthcare, then embroidered workwear is likely your best choice. Embroidery is designed to last the lifetime of the clothing. However, printed workwear could be a more affordable option if your logo or design is for a one-off event or used less frequently.
Size and type of design – The size and complexity of your design can impact what kind of branding style you should pick. At Stronghold Global, we have everything covered! We offer Embroidery & Digital Printing which includes Screen Printing, DTG Printing, Transfer Printing, and Dye Sublimation, so you have every option available to make the best decision for your design.
Type of workwear – Stronghold Global offers several additional personalisation options for branded workwear because we know that embroidery and printing methods are more suitable for different clothing types. For example, while polo shirts can be embroidered, Hi-Vis jackets, because of the material, cannot. Our workwear specialists are here to help you make the best decisions.
Are there sustainable options when branding workwear?
You bet there are! Working with our trusted partners, we can even provide a whole range of EcoViz® products constructed from fabrics derived either from recycled post-consumer clothing or recycled plastic bottles.
At Stronghold Global, we are big on protecting the environment and have introduced Sensa Green thread as part of our embroidery services. Sensa Green is an eco-friendly thread made from 100% biodegradable lyocell fibres, the first ever coloured lyocell thread manufactured from sustainably harvested trees.
And that's not all. In addition, we offer Hi-Vis clothing options that last double the length of regular Hi-Vis (up to 50 wash cycles), so they are a better option for longer-term cost savings and the environment too!
As businesses look to make more sustainable choices, selecting workwear and branding options that are kind to the environment is a great way to show your investment in sustainability. We are here to support any business trying to be greener and have you covered for all your sustainable workwear needs.
Is branded workwear worth the investment?
Whether your business is customer-facing or not, in our digital world of sharing information, photos, and videos, brand recognition is king. Therefore, yes. Branded workwear is definitely worth the investment, as every like or share online or in-person interaction is an opportunity to build your business into an instantly recognisable brand, locally, UK-wide, or internationally.
Investing in branded company workwear is a great way to build your brand and ensure your team looks professional, and the best time to do it is right now.
Read our blog, where we discuss 5 reasons you should invest in branded workwear here.
What services do we offer?
Stronghold Global can provide you with all your branded workwear needs. Whether you need to order branded hi-vis or uniforms or looking to roll out a whole workwear rebrand, we can provide you with everything you will need to ensure a seamless process.
We offer multiple types of branded solutions, including:
Embroidery
Digital Printing

Screen Printing
DTG Printing
Transfer Printing
Dye Sublimation
Stronghold Global has a dedicated branded workwear department creating over one million stitches every hour. Our state-of-the-art machines are equipped to facilitate branded apparel for big brands to small shops. As a result, we have helped many businesses complete new branded workwear rollouts, from teams of 2 to 10,000.
To find out more, speak with our team at Stronghold Global today, call us at 0845 208 4500, or email [email protected] and talk to our specialists.
FIND OUT HOW CAN WE SUPPORT YOU